This program of research investigated the connections among issues of intellectual property and federalism, including jurisdiction and legislative authority.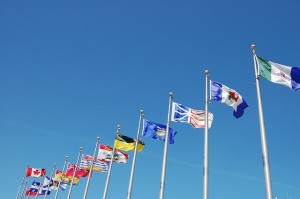 Canada's Constitution empowers the federal government to make laws regarding copyrights, patents and, to some extent, trade-marks and other intellectual property rights. Those federal laws profoundly impact matters of provincial jurisdiction, like education, healthcare, consumer protection, property and civil rights. But the complex relationship between intellectual property and Canadian federalism was, before this project, poorly understood.
This problem had practical implications that my research helped to understand and solve. Women in certain provinces were not being screened for cancer causing genes, while women in other provinces were, because provincial healthcare authorities responded differently to threats of litigation under federal patent laws. In Québec, local businesses use federal trade-mark laws to circumvent provincial language policies. Distance education in Nunavut is seriously affected by federal copyright policies made in Ottawa. Saskatchewan's organic farmers could not use provincial class action laws to prevent drifting transgenic crops, in part because liability would have conflicted with federal patent policy. The provincial government of Nova Scotia had to defend local business' rights to use images of the Bluenose schooner, which were alleged to violate federal copyrights and official trade-marks. The traditional knowledge of Canada's Aboriginal Peoples is at risk of misappropriation because it is unclear who has jurisdiction over the matter.
To address these kinds of real issues, I, together with students and other collaborators, have been investigating the underlying problem: understanding the dynamic relationship between Canadian federalism and intellectual property laws and policies. Research questions included:
Does the centralization of authority over intellectual property affect individuals' ability to participate democratically in law making?
Would it be possible to manage regulatory complexities caused by fragmenting intellectual property governance? What are the consequences of the division of powers over intellectual property for innovation and economic growth? and;
How does federalism affect the effective and efficient creation of knowledge policies to suit diverse local conditions across Canada?
The fundamental goal is to build the understanding of federalism's impact on intellectual property needed to appropriately govern Canada's knowledge society.
Research objectives were achieved using an interconnected series of case studies. Like the examples above, case studies demonstrated concretely the nature and effects of jurisdictional conflicts. They were underpinned with data gathered from primary and secondary legal materials, multi-disciplinary scholarly literature, and documentary evidence of governance challenges and public perceptions.
Perspectives from law, political science and other disciplines were incorporated directly into this research. The multi-disciplinary model draws upon specific subfields of federalism, especially the division of powers and inter-governmental relations.
A new, federalism-focussed analytical framework can now yield novel insights into intellectual property issues and provide future researchers with a new tool to carry out further studies.
This research was supported by the Social Sciences and Humanities Research Council.