How are copyright royalties established in Canada? What is the tariff-setting process? How long does it take? What has been written about it? These are just some of the questions answered in my empirical review of copyright tariff setting.
My research was initially conducted on behalf of the Government of Canada (the Department of Canadian Heritage and Industry Canada). Download and read the English version and French version of my study here for full analysis of these statistics and related issues. The peer-reviewed version of the paper was published in the Journal of the Copyright Society of the USA, and was awarded the 2017 Charles B. Seton prize for "the most significant contribution to scholarship in copyright law".
The process of setting copyright tariffs in Canada is extremely important. The economic value of royalties set through this process is estimated at over $400 million per year. Some of the most recent and important Supreme Court decisions on copyright law originated from copyright tariff-setting proceedings. The Copyright Board of Canada, the tribunal charged with administering the process, is on the front lines of copyright policy. Copyright tariff-setting greatly impacts business issues around online music streaming, internet service provider liability, levies on iPods and other devices, peer-to-peer file sharing, radio and television broadcasting, access to educational materials, and much more. Copyright tariff setting is a key part of Canada's cultural policy framework, as well as industrial and technology policy too.
So it may be surprising that, until now, there has never been rigorous empirical analysis of Canada's copyright tariff-setting process. My study for the first time synthesizes the existing work on this topic, schematically maps how tariff-setting happens; develops a methodology for empirical analysis; and collects and analyses data to begin measuring the time this process takes. My empirical research findings deliver unique understanding of Canada's tariff-setting procedures, enabling more informed debate about copyright issues, and helping policymakers as well as the Board to better respond to the needs and concerns of copyright stakeholders.
According to my data, 852 different tariffs were certified by the Copyright Board in respect of the 15-year period between and including 1999-2013. There are 209 pending tariffs that were proposed for that period but have not yet been certified. The certified tariffs took an average of 3.5 years to certify after filing. The average pending tariff has been outstanding for 5.3 years since filing as of March 31, 2015. On average, tariffs are certified 2.2 years after the beginning of the year in which they become applicable, which is in effect a period of retroactivity. The standard deviation in the time from proposal filing to tariff certification is 2 years. A hearing was held in 28% of tariff proceedings. The average time from proposal filing to a hearing in those proceedings was just over 3 years. The average time from a hearing to tariff certification was almost 1.3 years.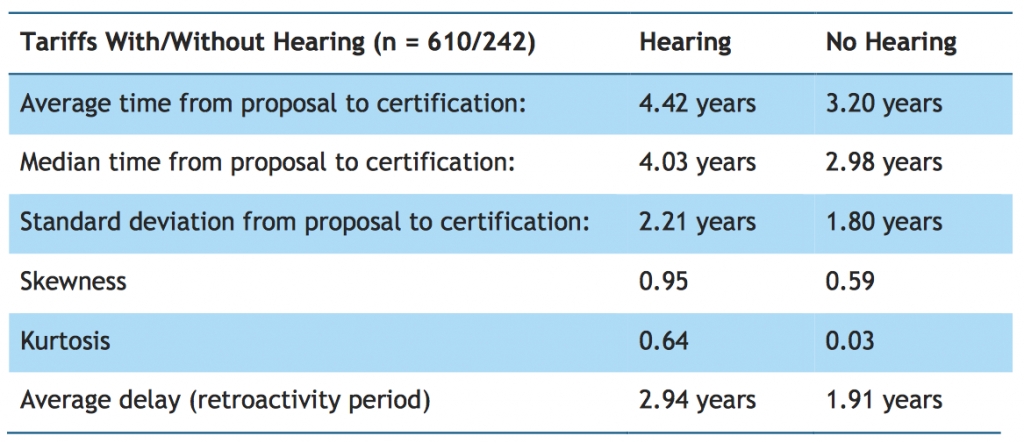 Check out the infographic accompanying my submission to the Senate Standing Committee on Banking, Trade, and Commerce

This research wouldn't have been possible without the support of a strong team of students at uOttawa. Sean Stidwill was the lead assistant on the initial study, which also included Tracey Doyle, Alyssa Gaffen, Jenny Li Green, Alyssa Pavan and Rebecca Rae Jeffery, and Jeremy Baarbé subsequently worked tirelessly to update the data and help prepare the journal article for publication.