The newest edition of A Property Law Reader: Cases, Questions and Commentary, 4th Edition, co-authored/edited by Bruce Ziff, Jeremy de Beer, Doug Harris, and Margaret McCullum, is Canada's leading casebook for property law students.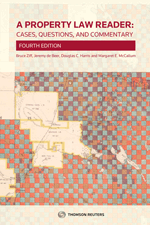 Starting with an exploration of the meaning(s) of property and its philosophical foundations, the book canvasses a broad range of fundamental concepts relating to both real and personal property. However, this work goes much further than that. It examines the interplay of property rights with pressing social questions, including those affecting race, class, and gender. These issues are examined in a variety of contexts, and from a range of perspectives.
A Property Law Reader invites an assessment of whether ancient legal doctrines remain of value within Canadian society. Though drawing on the law's deeply embedded history, the book seeks to provide a thoughtful treatment of contemporary property law and policy. Among topics considered are the nature of property, the concept of possession, the doctrine of estates and the origins and nature of equitable interests. An innovative collection of teaching materials, it offers a multi-faceted approach to the study of property law in Canada.
It serves as an academic companion to Professor Ziff's text, Principles of Property Law, now in its 6th Edition. Accordingly, the content follows that of the text; there are 12 chapters in all, featuring national coverage and, like the text, the approach to property law is one of law-in-context.